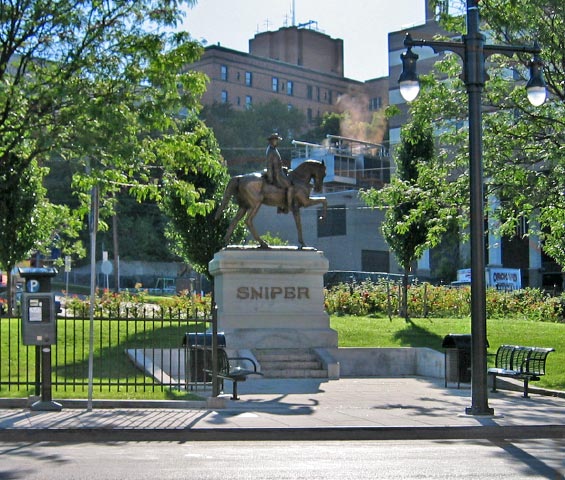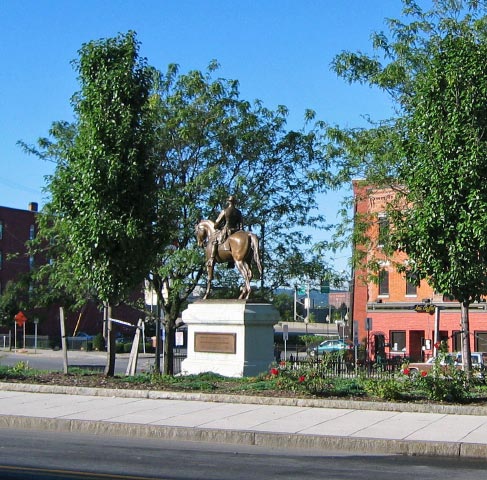 Photos by M. Stone 2004


The Sniper Monument, a Syracuse landmark for almost one hundred years, was erected in 1905 to honor the contributions of Civil War veteran Gustavus A. Sniper (1836-1894), a German immigrant who became a beloved son of Syracuse. The monument, located in Schlosser Park in the 400 block of North Salina Street, is Syracuse's only equine monument. The statue was cleaned and completely restored in 2003 (including fabrication of new replacements for a missing sword, scabbard, spurs, and reins) by Sharon BuMann, a Syracuse-area sculptor. This restoration was part of a larger program of renovating this section of North Salina Street (familiarly known as the "Little Italy" project).

The island-park where the Sniper statue can be found was recently enlarged and beautified as well. This land was originally donated as a home for the Sniper Monument by German immigrant Charles (Carl) Schlosser. Arriving in Syracuse in 1850, he established his wagon- or carriage-making business nearby at the corner of Laurel and State Streets.

Funds for this restoration were provided by the city of Syracuse and by the German American Society of Central New York, which has donated the proceeds of several annual Oktoberfests to help restore both the Sniper monument and the Goethe and Schiller monument in Schiller Park (erected in 1911).


Link to an old postcard of the Sniper Monument in Syracuse

Link to General Sniper's biography

Link to "Little Italy Enjoys Rebirth"