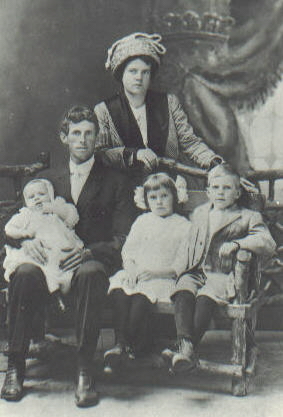 Carl and Nellie Kreischer and their children; photo taken circa 1911

Elleanor Mary "Nellie" Roberts (1882-1952) was my great-grandmother. She was born and grew up in Watertown, Jefferson County, New York, the sixth of seven children born to Lewis Humphrey Roberts and Ellen A. Roberts (same maiden name, no prior relation). On 18 January 1904 in Watertown she was married to Carl Kreischer, oldest son of Johann Jacob and Katharina Gilcher Kreischer of North Syracuse, Onondaga County, New York. Over the next 15 years or so Nellie saved some of the penny postcards her friends and relations mailed to her, her husband, and her young children as they lived or visited in Watertown, Buffalo, and North Syracuse, New York. This collection of postcards has been given to me and I am pleased to be able to share these historical artifacts with others. I have been able to date the postcards from the postmarks and/or the addresses.

Below on this page are the few specifically Syracuse- and Onondaga County-related postcards from Nellie's collection, along with links to more non-Onondaga postcards on other pages. Enjoy!