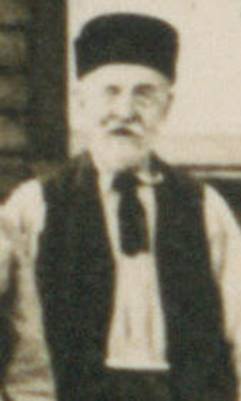 Lewis Humphrey Roberts
Photo circa 1911-1915
Michelle Stone's online genealogy


LEWIS HUMPHREY ROBERTS
1831 - 1915
Contents of sections below:
Details of his disability and pension
Second marriage and family info
References and sources (to be added later)
NAME in full:  LEWIS HUMPHREY ROBERTS
NICKNAME:  "LLEWELLYN ROBERTS"
Lewis is the Anglicized version of the Welsh name, Llewellyn. He was known by this name, Llewellyn, in the U.S. at least since his 40's (1870 census) and it may have been his original name or nickname used within his original family, who no doubt spoke Welsh as well as English. It is the name of two famous princes from Gwynedd, north Wales. According to one of his granddaughters, this was the only name she knew for him—and she described him as being Welsh. In later life he sometimes referred to himself as "The Old Soldier."
SIGNATURE:



BIRTH date:  Saturday, 26 February 1831 [most probably]    Place:  Boston, Suffolk County, Massachusetts [most probably], although in some records he and/or his family would be described as originally coming from Wales or England.
FATHER'S NAME IN FULL: DAVID ROBERTS
MOTHER'S NAME IN FULL: CATHERINE HUMPHREY/S
PHYSICAL DESCRIPTIONS: 
At 31 years of age:  5 feet, 5 inches, light complexion, blue eyes, auburn hair
At 36 years of age:  5 feet, 2-1/2 inches, light complexion, blue eyes, light hair.
At 58 years of age:  5 feet, 2-1/2 inches, 136 pounds.
At 68 years of age:  5 feet, 3 inches, 150 pounds.
At 80 years of age:  "Pensioner is about 5 feet 6 inches light complexion, now white hair and bald (were probably brown) and blue eyes."
Suffered from partial paralysis of right side, arm, hand, and leg, blindness in right eye, and severe deafness in right ear, with illness affecting sight in left eye—from the age of 32 until his death at the age of 84.
EDUCATION:  Unknown. Could read and write.
OCCUPATION(S):  (according to his obituary and/or his war service records; not all confirmed yet): He was an "organ blower" as a youth for Rev. Charles Lowell in Old West Church, near the corner of Cambridge & Lynde, Boston (where Louisa May Alcott, his contemporary, attended Sunday School as a child); he was most often, beginning in Boston (1851-1854), and continuing in Milwaukee, Wisconsin (1856-61) a 'machinist' [operator of machines]. After being discharged from military service for disability during the Civil War, he re-enlisted in the U.S. Army and after the war was supposedly regimental bookkeeper (or clerk) at Madison Barracks, Sackets Harbor, New York. After getting married in 1868 and leaving the service, he ran a small sawmill steam engine (15 horsepower) on Galloo Island, in Lake Ontario, about 15 miles west of Sackets Harbor, New York (for about six months out of every year, from Spring 1869 to Summer 1878). After moving to Watertown (Jefferson County), New York, he worked at odd jobs there (at the "Portable Engine works," the "Taggart Paper Mill," and the "Babcock Buggy Company") until disabilities from wartime service totally incapacitated him around 1885-1887.
EARLY LIFE

Born in Boston? Lived in Wales?

According to his obituaries (information probably supplied by his daughters, and some of which has been found to be erroneous), Lewis Humphrey Roberts "was born of Welsh parents in Boston on February 26, 1831, the son of David and Catherine Roberts, in which city his early life was spent amid a coterie of noted American literary celebrities and statesmen.  For a number of years he was organ blower for Rev. Dr. Lowell, father of James Russell Lowell, in his church.  Mr. Roberts has [sic] traveled extensively, going to Wales when a young man and was at Liverpool in 1851 and saw Prince Albert and the Duke of Wellington lay the corner stone of the Victoria and Albert dock.  Returning to this country, he for a time, lived at California and New York City, later going to Wisconsin, where he followed the occupation of a mechinist [sic; machinist]."
Two other variant obituaries include these passages:  "Mr. Roberts was born in Boston, Mass. Feb. 26, 1829 [sic] and when still a youth moved with his parents to Wales. When a young man, the family removed to this country, going to California, where they resided for several years. Later the family removed to Wisconsin, where Mr. Roberts followed the occupation of a machinist." And:  "Mr. Roberts was born in Boston, Mass., Feb. 26, 1829 [sic]. His parents went to Wales when he was a child and there he spent his youth. He returned to this country and had since lived here...."
I have not yet been able to find documentation in Boston of Lewis Roberts' birth (which, I was told at NEGHS, is not unusual for that time period, when very few birth records were kept). Neither have I yet found a record of his birth in Wales. The documentation of his early life which I have so far found include: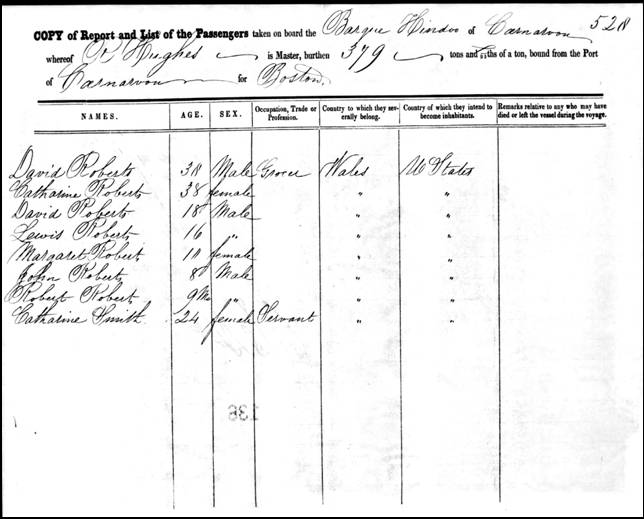 This ship's list shows Lewis Roberts and his family sailing to Boston from Caernarvon (today, Caernarfon; see also Wikipedia entry), in northwestern Wales, arriving in Boston 15 May, 1846 on the 310-ton barque "Hindoo" captained by Welshman Richard Hughes:
David Roberts, 38, male, Grocer, from Wales, to inhabit the U.S.
Catharine Roberts, 38, female                 "                           "
David Roberts, 18, male&nbsp                           "                           "
Lewis Roberts, 16, male&nbsp&nbsp                           "                           "
Margaret Roberts, 10, female                  "                           "
John Roberts, 8, male&nbsp&nbsp                              "                            "
Robert Roberts, 9 mo., male&nbsp                    "                            "
Catharine Smith, 24, female, Servant    "                            "
[NARA microfilm roll M277, roll 20, Ancestry.com]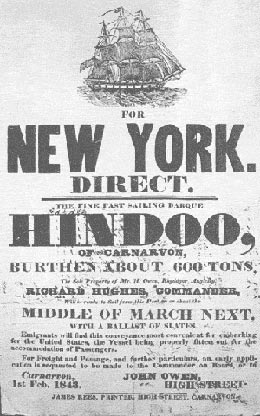 Advertisement for the barque "Hindoo," on which the Roberts family sailed from Caernarfon, north Wales, to Boston in 1846. The "Hindoo" was a North American-built ship owned by Humphrey Owen and Son, timber-merchants of Caernarfon. It sailed for many years between the ports of Liverpool, Caernarfon, Boston, New York, and Quebec, carrying timber to Britain and emigrants to North America. The round trip took about three months to sail. Graphic used with kind permission of the Gwynedd Archives Service.
The Hindoo's voyage to Boston originated in Beaumaris, North Wales on 7 April 1846, whence it sailed 12 miles down the Menai Strait and was in the port of Caernarvon the following day (8 April), when it appears that the Roberts family were the only passengers to go aboard. Arriving in Boston on 15 May, after a voyage of five weeks, Capt. Hughes continued on to New York City, arriving there three days later (18 May 1846).
In addition to finding Lewis Roberts and his family on the Hindoo's passenger list, I found what may have been Lewis Roberts and his family living—five years before they sailed to the U.S.—in Dolgelley, Merionethshire (today, Dolgellau, Gwynedd), in northwestern Wales, as enumerated on 6 June in the 1841 Wales census (Dolgellau is about 40 miles south of Caernarfon, and regularly scheduled stagecoach service leaving from in front of Dolgellau's Golden Lion Inn linked the two towns):
[in Waterloo Street:]
Catherine Roberts, 65, Ind [independent? or "Wd" = widow?], born in the same county [i.e. Merionethshire]
[next-door to:]
David Roberts, 35, Tea Dealer, born in the same county
Catherine, 30, born in the same county
David, 10, born in the same county
Lewis, 10, born in the same county
John, 4, not born in the same county
[UK Census Collection, Ancestry.com]
Knowing that the Welsh census enumerators were supposed to round ages to the nearest 5, this family could well be ours, including David, age 13 and his brother Lewis, age 10 or 11, although they are both claiming Welsh birth (but perhaps this entry provides the clue that younger brother John had been born in Boston c. 1837). At any rate, it is the only family I found in the Welsh censuses with parents David and Catherine and sons David and Lewis, all of the approximately correct ages at the appropriate date.
The 1844 business directory for Dolgelley also lists "Roberts, David, Waterloo st." as a grocer and dealer in sundries. There is no such person listed in the 1835, 1840, or 1850 Dolgelley directories, although in the 1850 directory there is a "Roberts, Robert" listed as a grocer and dealer in sundries in Waterloo Street. These listings would be consistent with Lewis' family leaving for Boston in 1846, and another Roberts relative taking over the Dolgellau shop.
More research needs to be done, including trying to confirm Lewis' time reportedly spent in California, possibly during the gold rush era around 1849 and 1850 (there were some interesting links between Boston and California then — did Lewis, too, sail to California around Cape Horn?). Another intriguing tidbit fueling speculation is that Dolgellau, Wales is said to have been "the center of a minor gold rush in the 19th century."
Despite all the talk about the family living in California and Wisconsin, in the 1850 census for Boston, Massachusetts, I found an entry for what looks like Lewis' parents and younger siblings: David Roberts, Truckman, 40 years old, living with Catherine, age 39, Margaret, age 12, John, age 9, and Robert, age 5, all born in "England." [NARA M432, Roll 334, page 93, Ward 1, 20 Sept.] Next-door to them lived the Edmunds family (Griffith, age 35, also a "Truckman," with wife Hannah, 29, and two small sons, John and William, all also from "England"). Then in the 1851 Boston city directory (page 212), we find the entry for "Roberts (David) & Edmunds (G) trunk manufactory Haverhill near Causeway, h[ome] 9 Carroll pl," which implies that the two men, perhaps previously acquaintances in Wales, had gone into trunk-manufacturing together. Putting these links together shows us that according to previous years' Boston city directories, this same man, David Roberts, and another David Roberts, a clerk (his oldest son), lived at 9 Carroll Place for the years 1847-1851. David Sr. (and his wife and children?) then lived at 109 Endicott Street in 1852 and 1853. In the 1854 directory David Roberts Sr. was still listed as a "trunk manufacturer" working at 69 Haverhill and living at 5 Bartlett place. All of these locations today are within Boston's now-Italian "North End."
There is also an 1852 city directory listing for "Roberts, David clerk Fourth corner Turnpike house at Fifth near B," which I believe was Lewis' older brother, David Jr., who in 1851 became a father and according to the birth certificate was living then at 68 Fifth Street, Boston, was born in "England," and his occupation was "Clerk." He had another child in 1853, whose birth certificate revealed him living at Gold Street in Boston, with the occupation of "Student."
Finally in the 1854 Boston city directory, we find men who I am sure are both our Lewis and his older brother, David:
            Roberts, David, physician, Fourth, c. Dorch. Ave. h. 66 Gold
            Roberts, Lewis, machinist, boards 5 Mahan place
From the city directory I learn that Gold (no longer in existence) ran from Dorchester Avenue to Dorchester Street in South Boston, and that Mahan place was opposite 142 Pleasant (neither of these are still in existence); Pleasant ran from 80 Boylston to 721 Washington, south-southeast of Boston Common (known then as the South End). Lewis and David lived a short walk's distance from each other. This was the only appearance of our Lewis Roberts by name in any of the Boston city directories. However, David, his brother, continued to be listed for several years thereafter until he died in 1863.
An unsuspected first marriage
One more surprise among the Boston records included an early first marriage for our Lewis Roberts (there were two Lewis Roberts in Boston at that time, and ours was at all times the only machinist):
Marriages registered in the City of Boston for the Year 1851
Vol. 56, Page 154, No. 1602
Date of marriage:  December 9, 1851
Names & Surnames of Groom and Bride: 
Lewis Roberts
            Margaret Davies
Residence of each at time of marriage:  Boston [for both]
Age of each in years:  21 [for both]
Occupation of Groom:  Machinist
Place of Birth of Each:  England [for both]
Names of Parents:
            David [for groom]
            John [for bride]
What marriage:  First [for both]
Name & official station of person by whom married:  Rev. L. Crowell
According to the 1851 Boston city directory, Rev. Loranus Crowell was pastor of the Church Street Methodist Episcopal Church, founded in 1849 and located at that time on Church Street, just south of Boston Common. (The building is no longer in existence. Years later, under the leadership of evangelist Rev. John W. Hamilton, this church in 1877 became more famously known in that area as the People's Temple.)
I am actively researching this (probably Welsh) Davies family to find out more. Additionally, I still have many questions to answer concerning the whereabouts of Lewis Roberts and the other Roberts family members during the 1850's. Did Lewis really visit the Liverpool docks and see Prince Albert lay a cornerstone, and did it happen in 1851? If so, was that just before he married his wife, Margaret Davies Roberts, that December? Did they both go to California, or did he go by himself in 1849 or 1850, possibly for the gold rush, and then return to Boston and get married? Was it as a newlywed, after 1851, when he might have worked as the "organ blower" at Boston's Old West Church (a fairly common part-time job at the time), if indeed he did that (and could working at that job be considered working as a "machinist," as his occupation was described in the 1854 Boston city directory?). I will continue to research. In the meantime we can safely assume that Lewis Roberts was a) well-traveled but at home in Boston; b) no stranger to the sea; and c) almost certainly a fluent speaker of Welsh, which was in all probability his native and family language.
Right now I suspect that Lewis Roberts could indeed have seen Prince Albert, the husband of Britain's Queen Victoria, and perhaps even have seen the Duke of Wellington (defeater of Napoleon, died in 1852) lay a cornerstone in Liverpool when Lewis was quite young and still living in Wales with his parents. The Liverpool World Heritage website describes how Prince Albert gave a speech at the opening of the Albert Dock on 30 July 1846. Lewis, age 16, had sailed with his family on the "Hindoo" for Boston the previous May (1846). So it is hard to believe he was present to witness that particular speech. But perhaps he had witnessed an earlier laying of the cornerstone whenever construction on the Albert dock had first begun—or perhaps it was the Wellington Dock, the Victoria Dock, or another dock in the port of Liverpool. This English port, after all, is not that far from the Welsh port of Caernarfon and the rest of northwestern Wales, and with Lewis's father, David Roberts, being in the tea or grocery business, he may have often travelled afar and dealt in imports, talking his son Lewis along with him. Additionally, whoever supplied the information for Lewis Roberts' obituary may have confused the year of the laying of a dock's cornerstone with the Great Exhibition of 1851. Or, the story may have actually concerned the Duke of Wellington's laying the first stone of Waterloo Barracks in London in 1845—who knows? We may never untangle the truth from the fiction in this particular family story. (In the meantime, here's an interesting website covering many facets of Liverpool and its docks, and another fascinating website offering the Illustrated London News, 1842-2005.)
I don't know yet the particular reason why Lewis and his wife Margaret (and at least one of her brothers, William G. Davies) migrated to Milwaukee, Wisconsin in 1856 and settled in the Third Ward. Lewis and William both worked as machinists in the same shop, Decker & Seville's Reliance Works, the largest general manufacturers in the city (producers of cooking stoves, millstones, ironwork, and other items). At some point Margaret became the proprietess of a boarding house, and we find them in the 1860 census, taken 15 June in the Third Ward of Milwaukee, Milwaukee County at what was probably 52 (East) Michigan Street (south side of the street), between Milwaukee and Jefferson Streets. Note that the enumerator was a bad speller:
Margret D. Roberts, 30, F, born in Wales
Lewis Roberts, 31, M, Machinist, personal property $200, born in Wales
Wiliam G. Davis [Davies; her brother], 25, M, Machinist, personal property $600, born in Wales
Richard E. Davis [also her brother?], 28, M, Stone Cutter, real estate $200, personal property $600, born in Wales
Wallace L. Smith, 27, M, Sailor, born in Maine
Mary M. Smith, 22, F, personal property $100, born in New York State
Elizabeth Smith, 2, F, born in Wisconsin
Joseph W. Moran, 23, M, Carpenter, born in New York
Carrie Moran, 26, F, born in New York
Mary F. Moran, 56, F, born in England
Robert M. Roberts, 32, M, Express Man, personal property $200, born in New York
Jeines [Jane] Roberts, 31, F, born in Wales
[NARA M653, Roll 1422]
At this juncture the Civil War reared its head.