---
---
Roberts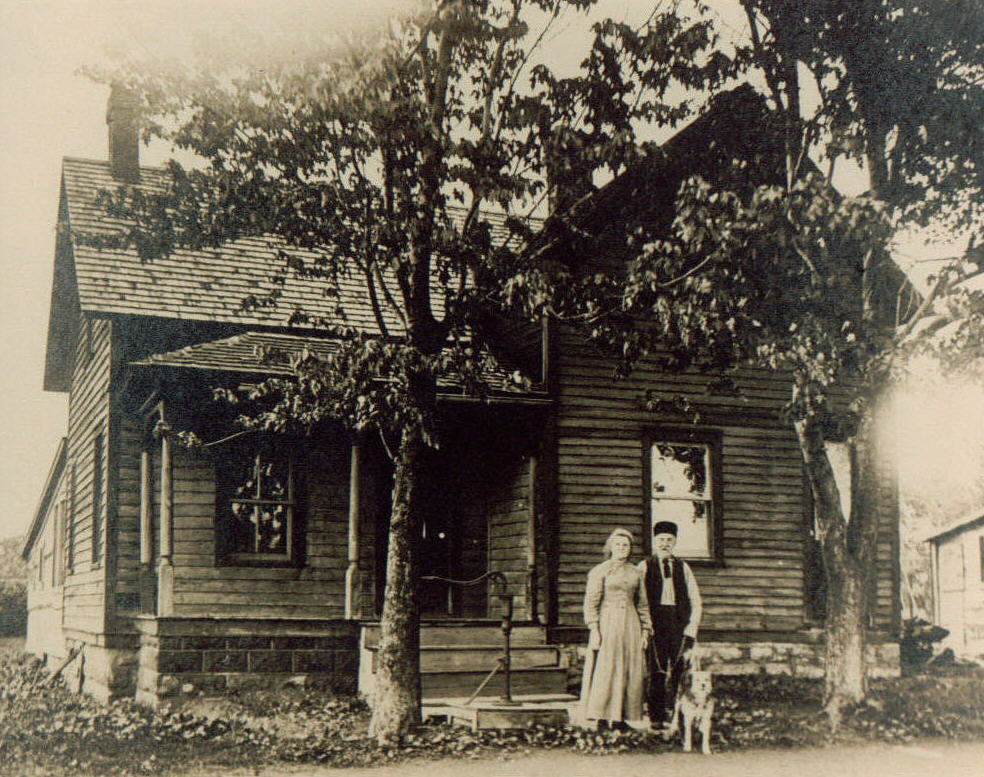 Ellen and "Llewellyn" Roberts. This photo may have been taken
at their farmhouse outside of Sackets Harbor, NY (circa 1905-1910)
or at their final home together at 8 Duffy Street in Watertown, NY (circa 1911-1915).
Lewis was the son of David Roberts and Catherine Humphrey from Mallwyd, Merioneth, Wales,
and Ellen was the daughter of Otis Alexander Roberts and Esther Ann Townsen(d),
reputedly of Welsh ancestry, too. They were not previously related before their marriage.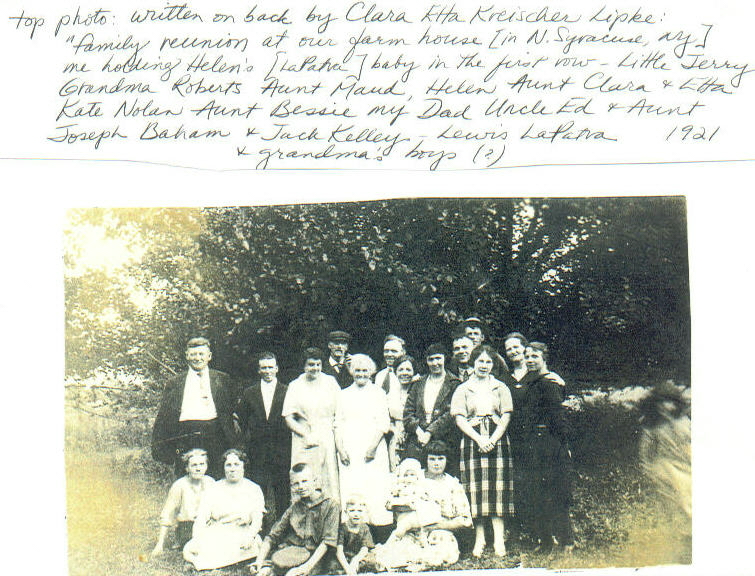 Reunion of the Roberts clan, 1921, at my Grandma's farm in North Syracuse, New York.
(Her mother was Nellie Roberts Kreischer). Adjacent is my transcription
of the caption my Grandma had written on the back. In this photo I am
only able to recognize my grandmother (Clara Kreischer, dark hair,
holding Helen LaPatra's son, "Little Jerry," on the ground); her father,
Carl Kreischer (tallest man in back, on the right, wearing hat); and the
little old white-haired lady in the center, who I think is "Grandma Roberts," Ellen
Roberts, wife of Lewis H. Roberts, and mother of Etta, Clara, Nellie,
etc.--she was my grandma's grandma from Watertown.
A descendant of Etta Roberts (older sister of Nellie Roberts Kreischer)
recognizes her as the second woman from the right, in the dark dress
with the v-shaped neckline.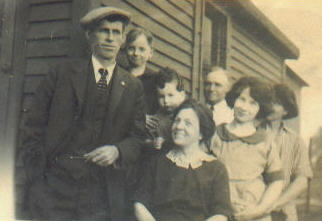 This photo is undated but was taken circa 1922, and my Grandma had written on the back:
"My Dad [Carl Kreischer, in front, wearing hat], Jack Kelley,
Little Jerry & Aunt Clara her daughter Helen & Uncle Ed." Uncle Ed was the husband
of Bessie Roberts Kelley and Jack was their adopted son. I don't know who
the unidentified girl behind Helen was--maybe my grandma (her cousin).


The Seven Children and the Grandchildren of
LEWIS HUMPHREY ROBERTS (1831-1915) and ELLEN A. ROBERTS (1846-1923)
Who were married
August 10, 1868 in the parsonage of the
Arsenal Street/First Methodist Episcopal Church, Watertown, NY

See ROBERTS - HUMPHREY descendants' chart
1. Etta Grace Roberts (1869-1924)
sp. William A. Miner/Minor (c. 1872-1899)


- Agnes L. Minor (1892- ?)
sp. - Austin?

- Bessie M. Minor (1893-1962)
sp.? William Smith?
[one son]
sp. Monroe C. ("Bunce") Austin (1895-1968)
[3 children]

sp. Harry George Danks (1869-1952)


- Otis Samuel Danks (1899-1931)
sp. Gertrude P. Murphy (1904-1981)


[4 children:]

Marjorie ("Marge") Etta Danks (1922-1994)
[3 husbands, 3 children]

Etta Grace Danks (1926-1927)

[daughter still living]
[two husbands, one son]

Otis Samuel Danks, Jr. (1931-1996)
[wife, 2 daughters]



- Edwin Lewis Danks (1904-1951)
sp. Mary Supernault (div.)
[1 son]
sp. Pauline Reynolds McDermott

- [daughter still living]
[2 husbands, 1 son]


2. Erwin W. Roberts (1871-1905)
sp. Jenny -


3. Clara J. Roberts (1873-1941)
sp. Jeremiah ("Jerry") LaPatra (c. 1872-1920)


- [3 children born of Clara who died by 1900, acc. to 1900 census]

- Lewis/Louis E. LaPatra (c. 1896- )
sp. Kathryn -
[5? children]

- Helen D. LaPatra (c. 1902- )
sp. Frank (Jerry?) Austin
[1 son]
sp. Lee DeAlton Clark
[2 sons]
[set of twins, lost at birth]
sp. William Wilson



- [Clara had one more child who died, acc. to 1910 census]

sp. John H. Radley (1867-1942)


4. Wilbur H. Roberts (1875-1890)


5. Jerome Lewis ("Joe") Roberts (1879-1939)
sp. Maude A. Argersinger (1878-1955)


- Jerome Merritt ("Merritt") Roberts (1898-1964)
sp. Andrewina Hopkins
[3 children]

- Marjorie Roberts (1900-1994)
sp. Robert Lozier Payne (1898-1947)
[1 daughter]

- Stanton Harvey Roberts (1905-1984)
sp. Dora Kelley (?-1994)
[1 daughter]

- Warner ("Wilbur") Roberts (1910-1959)
sp. [living]
[2 children]



6. Elleanor Mary ("Nellie") Roberts (1882-1952)
sp. Carl Kreischer (1882-1925)


- Alfred John Kreischer (1905-1984)
sp. Leona -
sp. Evelyn Wright

- Clara Etta Kreischer (1906-1980)
sp. Anthony August ("Tony") Lipke (1907-1993)
[3 children]

- Charles Robert ("Bob") Kreischer (1911-1990)
sp. Kathryn Arlene Salbert (1915-1997)
[4 children]


7. Elizabeth Alice ("Bessie") Roberts (1884-1962)
sp. Edward ("Ed") Kelly/Kelley (1877-1944)


- John Edward ("Jack") Kelley
sp. - (div.)
[1 daughter]
sp. Margaret -
[5 children]

[This page is still under construction, with more information to be added.]