German Immigrant Ancestors
in Syracuse and Onondaga County, New York
Cemeteries




This page is under construction and growing (thanks to contributions from generous researchers).
We welcome your help, additions, and corrections! Please email me.

This page features only cemeteries with connections to the German population of Onondaga County. For a much more comprehensive list of Onondaga County cemeteries, visit Rootsweb's Onondaga County GenWeb site at http://www.rootsweb.com/~nyononda/INDEX.HTM.

And don't forget Findagrave.com


---
---

ROMAN CATHOLIC CEMETERIES - The main office for the Roman Catholic cemeteries in Syracuse is located at St. Agnes Cemetery at 2315 South Avenue in Syracuse, NY (13207; Telephone (315) 472-6802). They provide burial locations and maps at no charge, and provide more information (dates of death/burial, names in adjacent graves, etc.) for a research fee. Check for current services and policies. Another source for Roman Catholic burial records is the Diocesan Archives, 240 East Onondaga Street, Syracuse, NY 13202 (Telephone (315) 422-7203 for an appointment with the Archivist.)


---
---
---
---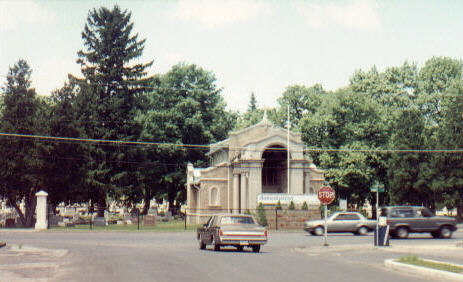 ASSUMPTION CEMETERY

Status: Active (c. ? to present)
Address: 2401 Court St., Syracuse, NY 13208
Telephone: (315) 454-3841; Fax: (315) 454-4931
Affiliated with the Catholic Assumption Church.

Assumption Cemetery is one of the largest in Syracuse and has been called a vast "city of the silent." As Assumption Church was once the major German Catholic church on the North Side of Syracuse in the heart of the German community, many Germans were buried here. Facilities include a chapel and mausoleum. Office hours are during the week, but the cemetery is open for visitation at other times (check with the cemetery). It is helpful to visit during office hours so that you may pick up a map from the office.

The records situation can be tricky and seem arbitrary from case to case. My personal experience from years ago was that I wrote ahead two months in advance of my visit (1994), sending a check and a self-addressed, stamped envelope, and received no response. When I visited the cemetery office, my uncashed check was returned to me (I was told they hadn't had the time to respond) and the office personnel were very helpful in looking up my ancestors' burial sites on their office computers on the spot. But when I returned to the office an hour later for more lookups of the same surnames, I was told I must submit requests in writing as they did not have time to do more than a few lookups per person at the counter.

Assumption Cemetery records are also available on 3" x 5" cards at the Onondaga Historical Association in Syracuse, perhaps your best bet for extensive research.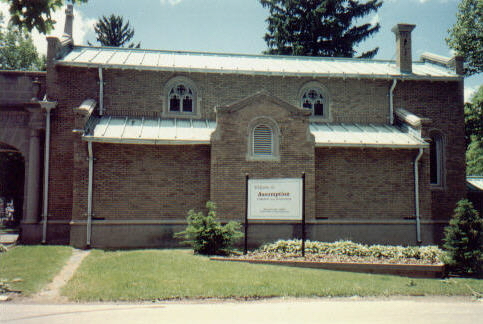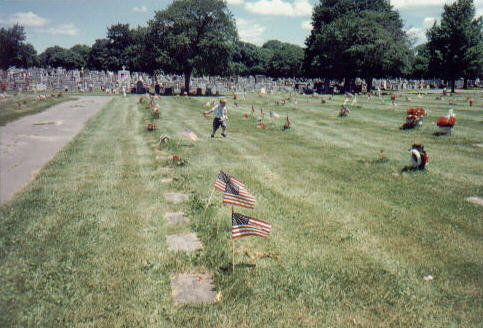 Photos by M. Stone, June 1994 show just a portion
of the vast Assumption Cemetery and its chapel
---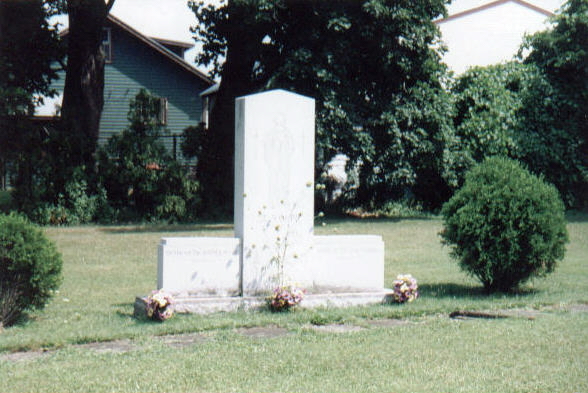 St. Joseph Cemetery Memorial
Photo by Norman C. Staub, Sr., 2001
See MORE and MORE

ST. JOSEPH'S (GERMAN) CEMETERY

Status: Catholic. Extinct.
Former Address: 801 Pond Street and 700 First North, Syracuse, NY

Burials c. 1852-1953, managed by the Conventual Franciscan friars. Remains from some 4,000 to 6,000 graves were disinterred and transferred to Assumption Cemetery 1965-1966, in order to make way for a shopping center.

Formerly overseen by the Catholic church, St. Joseph's Cemetery was the final resting place for many Germans and Irish. Evidently what burial records are still available (if any) is difficult to determine. Some records concerning St. Joseph's Cemetery might be held by the Diocese Archives, 240 E. Onondaga St., Syracuse, NY 13201-0511; Website: The Catholic Diocese of Syracuse, NY. St. Joseph's Cemetery records are also supposedly held by the Franciscan friary in Rensselaer, NY (see email from Norman C. Staub, Sr. below). St. Joseph's Cemetery burial information is also available on 3" x 5" index cards at the Onondaga Historical Association on Montgomery Street in Syracuse and at the Onondaga County Public Library on South Salina Street in Syracuse. See also "Old St. Joseph's Cemetery: A Dahlin/Spaeth Family Perspective."


---
---
---
---


Sender: Kelly Michaels Schaff
Email: kschaff@twcny.rr.com
Date: 28 October 2003
Re: St. Joseph's Cemetery and Assumption Cemetery

Some of the records from St. Joseph's German Cemetery are located at the Syracuse [Onondaga County] Public Library on Salina St., Galleries Mall, Syracuse. They have records that were written down by the 'person' who dug up the graves. They also have another set of records.

My great Aunt, Florence Griffin, 1912-2002, stated that all of my 'Griffin' ancestors were buried there. She said that people were given the 'choice' to either have everyone buried in the common grave; or to purchase plots in Assumption. My great grandfather did not want to do that, since he had already paid for the plots on St Joseph's; and did not 'trust' them to put 'his' people in the right graves. My great aunt watched the excavation and her sisters headstone, as well as everyone's, was just thrown in a pile. So I guess you were given a choice.

Kelly Michaels Schaff
Liverpool, NY


---

Sender: Norman C. Staub, Sr.
Email: normanssr@att.net
Date: 16 & 27 November 2002
Re: St. Joseph's Cemetery and Assumption Cemetery

The OHA [Onondaga Historical Association in Syracuse] has copies of the records from St Joseph's cemetery and the Assumption Cemetery. I had been looking for these for at least four or five years without much luck. Assumption Cemetery told me that they are in the process of computerizing their records, but they haven't finished yet and don't know when they will be available. I was also told that the records of St. Joseph's are at the Franciscan friary in Rensselaer, NY, but when I called there I was put off with the claim that the Archives were being moved and were not available. Thus, finding the cemetery records at the OHA was a welcome surprise. My wife and I copied much new information about members of my family in both cemeteries. The records are on 3 x 5 cards individually written out. I don't know when it was done; apparently a number of years ago.

St Joseph Cemetery.... It was opened about 1852. According to the description of German churches on your website, St. Joseph's church was established in 1882; some 30 years later. According to the information I obtained at the Syracuse Roman Catholic Diocesan Archives in 1998, the cemetery was used predominantly by Germans and Irish.

St. Joseph's cemetery, run by the Conventual Franciscan friars, was closed after World War 2, I think. It was never very large, and the Franciscans stopped selling plots in the early 20th-century. People who owned grave sites continued to be buried there, so by WW2, the cemetery was more or less full. It was closed and abandoned by the Franciscans, who obviously felt they no longer had any responsibility to care for it. Over the years, it was overgrown by bushes, vines and trees and seriously vandalized.

Assumption Cemetery, which is much larger, took St. Joseph's place early in the 20th century. About 1962, St Joseph's Cemetery was sold for a shopping center development. All of the graves, I think there were about 6,000, were opened and any remains found were moved by local undertakers to a mass grave in the Assumption Cemetery. I have seen the mass grave site and the monument marking it. Of all the known burials fewer than 500 were ever identified. The abandonment of St. Joseph's has been a real blow to my family because so many of my forebears (Staub, Geiger, Saile) were buried there. As far as I know, their remains were never identified; they must be in the mass grave.


---
Copyright 2003, 2004, 2005, 2012, 2021 Michelle Stone.
All rights reserved. This information may be used for personal and/or scholarly research only. Commercial use or reproduction of any information contained on this website is strictly prohibited. Information contained on this site is not to appear on any web site on the Internet or in any printed format without written permission.
Please link to my site and give appropriate copyright credit.
Thanks!